Sale price
₹ 1,699
Regular price
Unit price
per
Sale
Sold out
Inclusive of all taxes
Ditch Dairy! Flower power has been talked about since time immemorial, but we are yet to completely switch to healthier alternatives. Traditional tea has less to offer in terms of health, but it satiates your soul and palate to the core. Though tea has anti-inflammatory properties, with milk it has no such benefits due to milk's inflammatory effect. Floral teas, on the other hand, are known by Ayurveda to protect your health while also pleasing your eyes. Active compounds like anthocyanins, polyphenols, and tannins drive biological reactions inside the body and scavenge free radicals. This set of three flower teas will help you bloom into your best self! Gift it to your hardworking self or your friends and family this holiday season.
This box contains:
Orie Bloom, Hibiscus & Pomegranate Special

View full details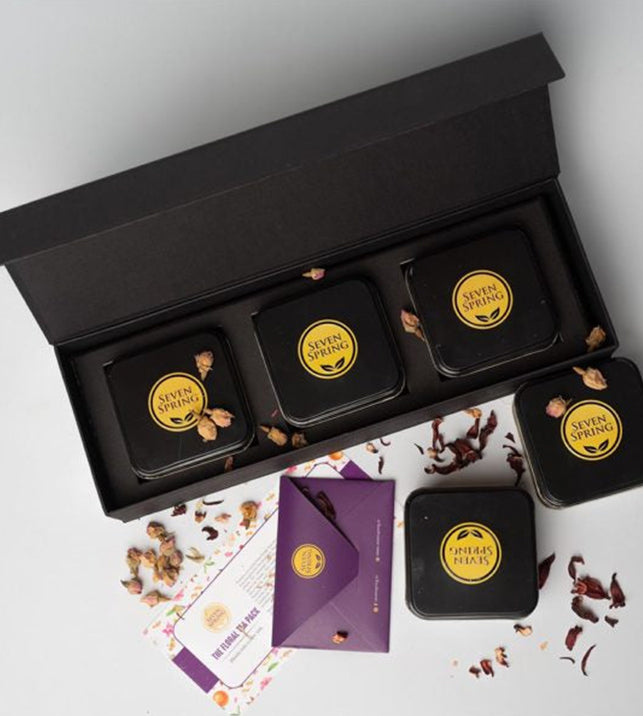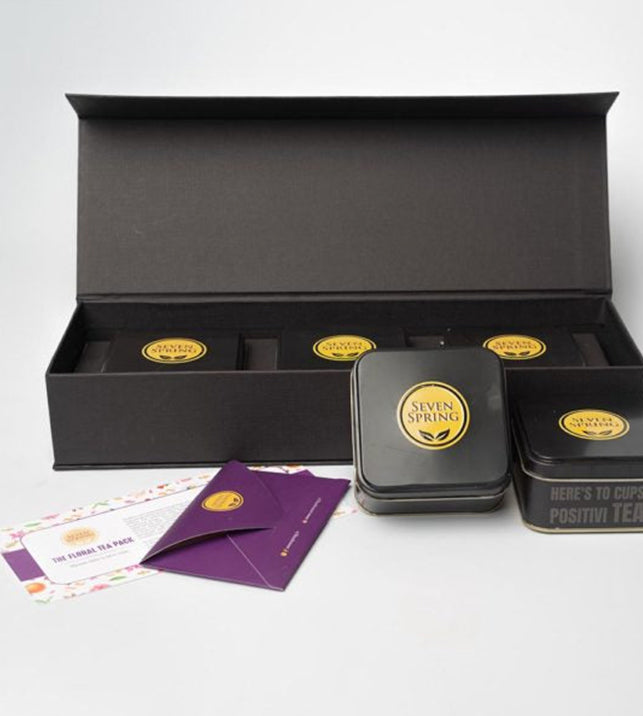 1500+ Reviews

"Drink your flower in the form of tea from Seven Spring to gain its medicinal properties."
"These new-age herbal teas are excellent for gifting as they are age friendly and offer great benefits."

"Seven Spring Teas are believed to have a healing impact considering how they are deeply interwoven in the cultural milieu."
"Seven Spring introduces an array of rare and unique tea range"
Testimonials

Seven Springs Herbal tea is my go to drink after a hectic day at shoot or early in the morning to have a great start to my day.
Siddhaanth Vir Surryavanshi
Actor | Model

Green Tea by Seven Spring is a part of my daily routine and has helped me boost my immunity.
Rashi Parasrampuria
Miss Teen International India 2020

Seven Spring Teas are the perfect balance of taste and health for me. My personal favourites are the Hibiscus and Lemon Ginger tea.
Sayali Ayre
Miss Teen India Multinational 2021
Siddhaanth Vir Surryavanshi
Actor | Model
Rashi Parasrampuria
Miss Teen International India 2020
Sayali Ayre
Miss Teen India Multinational 2021
Frequently Asked Questions
Can we add milk to all the teas?
No, we recommend you read the "Memo" section to know which tea goes well with what. Like water, milk, and condiments.
What is the shelf-life of all the teas by Seven Spring?
All our Teas have a shelf-life of 1 year from the date of packaging.
How should we store the loose leaf teas and Tea bags?
Both the teas should be stored in an air tight container in a cool dry place after opening the package to avoid infestation or oxidation of these preservative free products.
Are these teas organic and chemical free?
Yes, 100%! We don't use any chemicals, colorants, or preservatives as all the teas are naturally preserved by our processing techniques and all the ingredients have their own natural pigments.
Can we Re-use or Re-steep these teas?
Completely! The tea bags can be re-steeped 2-3 times and loose leaf teas can also be re-used upto 2 times.
100% Guarantee
Free Replacement if you are not satisfied
Whole leaf, Highest Tea grade
Pure Indian single estate tea experience
At your doorstep in 2-4 days
Ships in 24 hours. Delivers wordlwide
From the foothills of himalyas
No middlemen. No auction houses. No exporters.